Grants and Scholarships Resource Center
This resource is designed to support career and technical education professionals and their students to seek support for their CTE programs and for funding assistance for tuition to pursue postsecondary CTE studies. Check back frequently as new programs are announced routinely.
If you are aware of support resources not listed here, please share that information with fundingsupport@acteonline.org
The Voya Unsung Heroes program has helped over 2,000 K–12 educators and their schools fund innovative classroom projects through awards totaling over $5 million.
Are you an educator with an innovative class project that is short on funding but long on potential? Do you know a teacher looking for grant dollars to help bring to life their innovative and engaging teaching ideas? Voya Unsung Heroes could help turn great ideas into reality for students. We encourage you to apply for the Voya Unsung Heroes program by completing the online application.
The submission deadline is April 30, 2020.
Educators submit applications for a Voya Unsung Heroes grant by describing projects they have initiated or would like to pursue. Each project is judged on its: innovative method, creativity and ability to positively influence students. This year, 50 finalists will be selected to receive a $2,000 grant, payable to both the winning teacher and their school. At least one grant is awarded in each of the 50 states, provided at least one qualified application was received from each state.Of the 50 finalists, three are selected for additional financial awards: $25,000 for first place, $10,000 for second place, and $5,000 for third place.
Unsung Heroes is part of Voya Foundation's signature program, 
Voya Teacher Voices
. Voya Teacher Voices focuses on empowering teachers to become leaders by promoting the teaching career, recognizing high-achieving accomplishments, providing training opportunities and offering financial support to achieve their goals.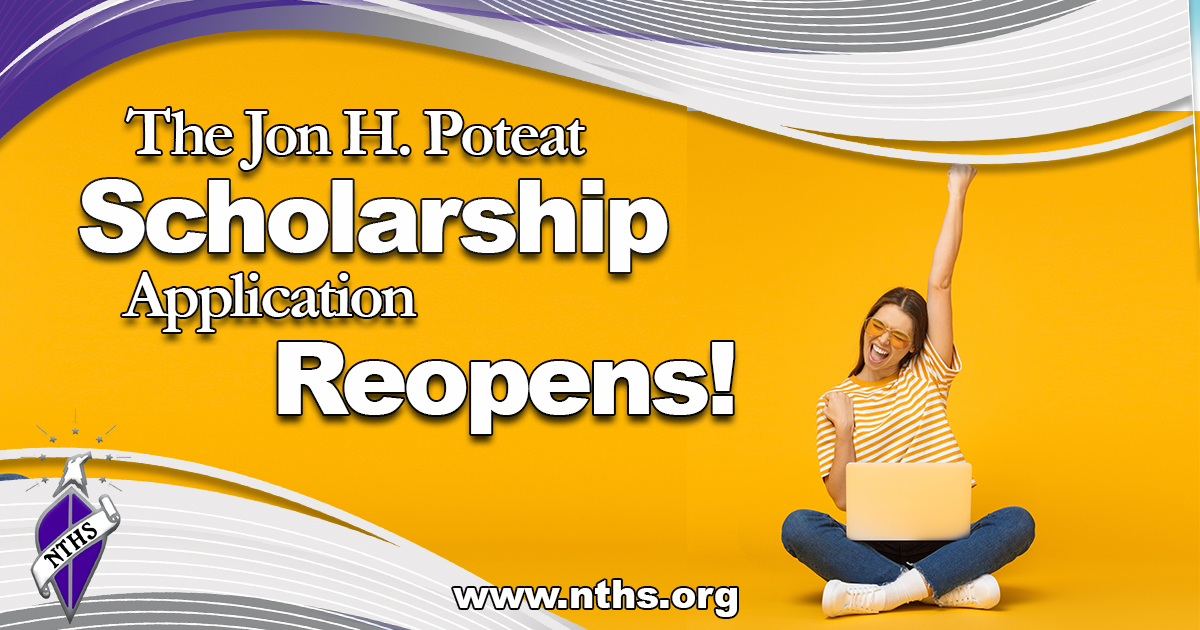 The JHP Scholarship Application is Open!
Your next chance to apply for the highly coveted Jon H. Poteat Scholarship is here! The application period opened for the 2019-2020 school year on Sunday, September 1st! Make sure to log in first, and then visit our scholarship page to submit your application. (And while you're there, check out all the other scholarship opportunities we offer to both members and alumni.) JHP winners will be announced on May 15th, 2020.
Applications are open through May 1, 2020. Questions? Please call us at (800) 801-7090!
Grants

Agricultural Workforce Training Grant Programs
The Department of Agriculture's National Institute of Food and Agriculture (NIFA) announced the availability of $29 million in grant funding for their Education and Workforce Program (EWP), which includes the Professional Development for Agricultural Literacy and Agricultural Workforce Training Grants.
These programs, listed in more detail below, offer eligible institutions grants for professional development opportunities, in order to provide K-14 educators an increased awareness of food and agricultural science disciplines and career opportunities, and to help them develop an enriched curriculum for training the next generation of the agricultural workforce.
Professional Development for Agricultural Literacy Grant program: Participants are expected to develop skills necessary for integrating food and agricultural science concepts in their classes; explore the opportunities available in food and agricultural science career paths; and/or forge mentorships with professional and business leaders, and faculty. Grants can be for up to $300,000 for four-year projects. Deadline for submitting an application is June 13, 2019.
Agricultural Workforce Training Grant program: The goal is to expand job-based, experiential learning opportunities that lead to the development of the food and agricultural science workforce through curriculum development at community, junior, and technical colleges/institutes. Grants can be awarded for up to $500,000. Deadline for the Letter of Intent is June 11, 2019, and the application deadline is Aug. 22, 2019.
Institutions who are eligible to apply and receive grant funding under these programs include, but are not limited to land-grant institutions, for-profit organizations other than small businesses, individuals, nonprofits with 501(c)(3) IRS status, nonprofits without 501(c)(3) IRS status, private institutions of higher ed, small businesses, state agricultural experiment stations, and state controlled institutions of higher ed.
For more information on the grants and submission details, please visit the grant announcement page on NIFA's website.
The deadlines are June 11, and 13, 2019.
Funding & Recognition Programs