February 23, 2017 marks the 100-year anniversary of the Smith-Hughes National Vocational Education Act of 1917, the seminal legislation that initiated the federal investment in secondary career and technical education in the United States and provided the foundation for the secondary-postsecondary CTE programs we have today.
What does this Act have in common with today's CTE
While the times have changed, CTE remains the engine of the American economy, much like it did in 1917. CTE today encompasses 94 percent of high school students and 8.4 million individuals seeking postsecondary certificates and associate degrees in CTE fields.
A time to reflect on the past, present and future of CTE.
Learn more about the history and importance of the Smith-Hughes Act by viewing this video, produced by the FFA.ACTE is encouraging a CTE community-wide celebration to mark this momentous occasion.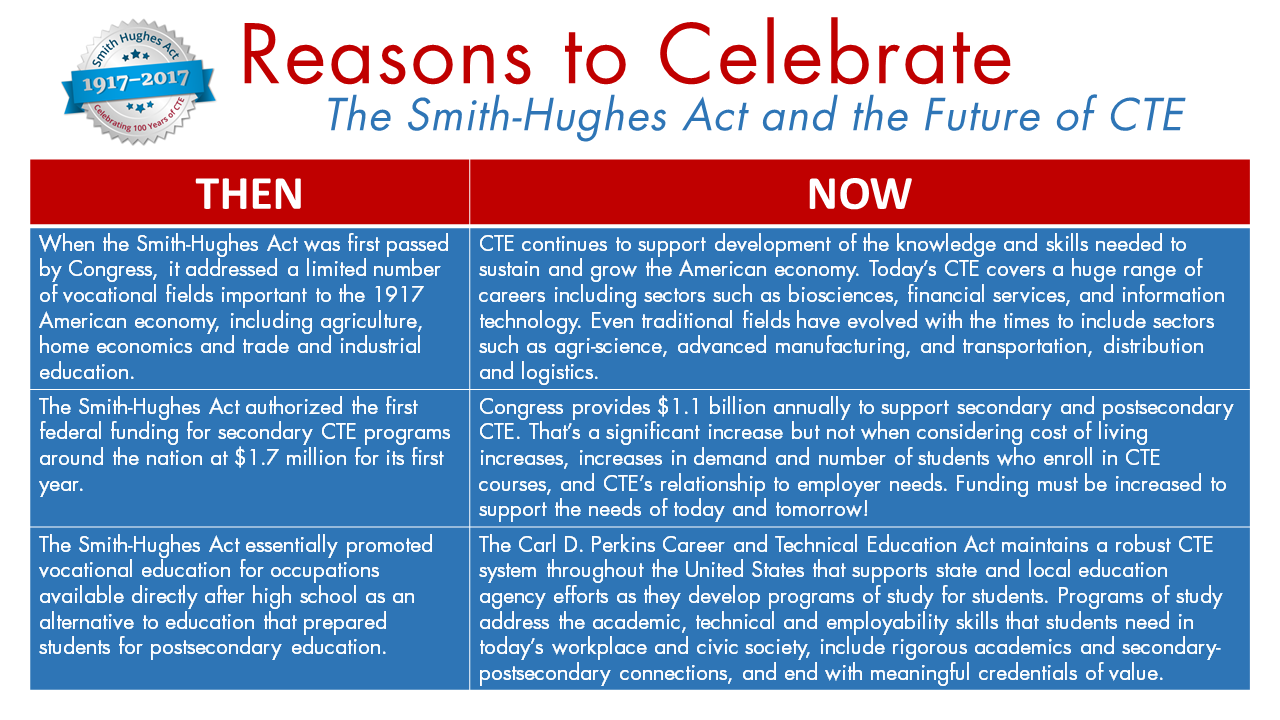 Download the Smith-Hughes Reasons to Celebrate Graphic
ACTE's celebration of the 100-year anniversary of the Smith-Hughes Act will include a series of activities and events:
ACTE has developed a Smith-Hughes Act seal (below) for the CTE community to use to commemorate the occasion throughout the year. Use the seal on your website, social media and publications.
Purchase a Smith-Hughes Act pin as a gift for your business and community supporters or for yourself and your colleagues to bring awareness to career and technical education during CTE Month or all year long. It's a great way to begin the conversation about CTE's longstanding importance to students, the economy and the nation!
Celebrate the Smith-Hughes Act and all that is CTE during CTE Month in February!
Read the February edition of Techniques magazine that takes a look at CTE's rich history, pertinent legislation that has helped shape what CTE is today, testimonials, promising programs and predictions for what's next in CTE.
We have come a long way as CTE and as a nation. That history has been interconnected. CTE has literally and figuratively provided the infrastructure of America and it?s important that we recognize and celebrate that past, even as we look to the promise that CTE holds for the future. LeAnn Wilson, ACTE Executive Director
Learn more about CTE policy on the CTE Policy Watch Blog and advocate for CTE via the CTE Action Center.